Customize Your KitBook
Expand Your Brand
Making Custom KitBooks
Extend your brand and begin training your next generation of superstars with KitBooks.
Schools need resources. You need skilled workers. Now's your chance to fix both problems by donating KitBooks customized with your logo and message to schools, boys and girls clubs, scouts, charity auctions, after-school programs, pediatric wards in hospitals, libraries in your community.
Building your customized KitBook is as simple as 1, 2, 3:
1. Send us YOUR company logo and we'll add it to the front cover.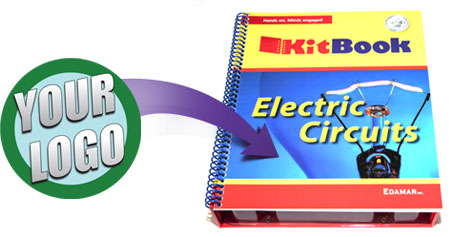 2. Send us your company message and we'll add pages to the KitBook that tell YOUR story. Design the additional pages yourself or give us the message and we'll do it for a small fee.
Show workers in action and explain the skills they have.
Inspire students to pursue educational paths your industry needs.
Explain how your industry contributes to the community and society
Tell interesting facts about your product or the services you provide.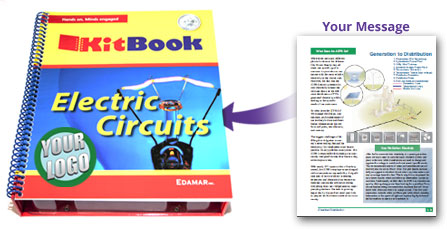 3. We'll ship YOUR custom KitBook for distribution by you.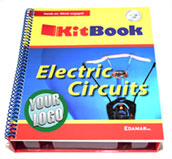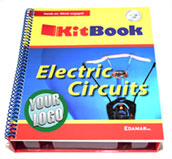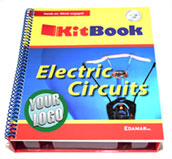 Advertise with KitBooks
Here's what you get:
Great PR—extend your brand and systematically increase your community goodwill.
Enhanced corporate citizenship—help schools and organizations bridge their funding gaps.
Full pipeline of skilled workers by helping teachers teach important science lessons
Extended community outreach—one set can train hundreds of students over the life of the product.
Customization Rates
(Costs are in addition to the standard KitBook price)
Service
Quantity Ordered
25-100
100-500
500+
Setup (per project)
$111.00
$111.00
$111.00
Custom Logo (per KitBook)
$4.00
$3.75
$3.25
Additional Page (full color, two sides)
$2.00
$1.50
$1.25
Custom KitBooks are very affordable!
Example:
You order 100 custom KitBooks with two additional pages, and you create the pages. The cost to customize each KitBook with your company's logo and two pages (four sides) of your message is only $8.10.
$110.00 (Setup)
+ $400.00 (Cover Logo)
+ $300.00 (Two Additional Pages – 4 sheets)
---
$810.00
/ 100 Kitbooks
---
$8.10 per KitBook
Notes:
Minimum customization order size is 25 KitBooks
Recommended logo file type is high resolution jpg
Contact Us for custom page design guidelines